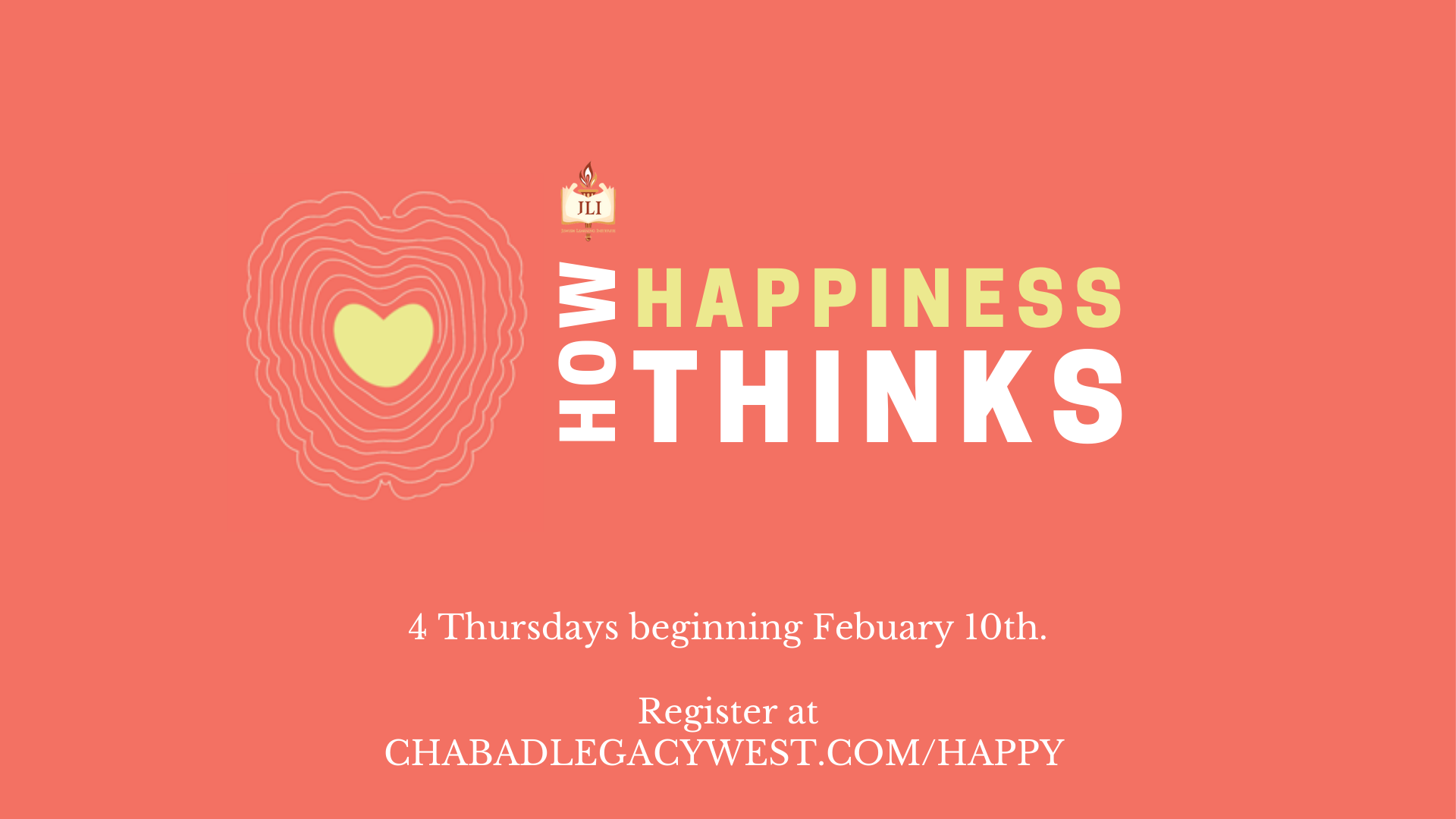 ARE YOU HAPPY TO THE CORE?
Since the dawn of time, humanity has wrestled with the simple question: How to be happy? Recently, scientists have been discovering the shifting forces that shape our frame of mind, and have developed new ways and practical tools to cope with anxiety and stress, to crystallize our self-concept, and to build the resilience we need to ride through the challenges life throws our way.
Unsurprisingly, Torah and the Talmud have for centuries advocated various approaches to achieving happiness; ideas that are only now being confirmed through scientific observation. How Happiness Thinks offers a Jewish roadmap to happier living. Every lesson contains poignant insights into how our minds operate with practical steps you can take to boost your happiness levels to places unimaginable.
Join us for four Thursdays
Starting February 10th, 2022
7:00-8:15 p.m.
Location:
Chabad of Plano, 
3904 W. Park blvd. 

Fee:
$30 (textbook included)
$50 +1 Discount 
1. HOW TO FEEL GOOD ABOUT YOURSELF WITHOUT BECOMING SELF-ABSORBED
How we think changes the way we feel. What thoughts can you think that will make you feel better about yourself without getting self-absorbed and egomaniacal? How do we strike the perfect balance between maintaining healthy humility while, at the same time, building a positive self-image?
2. HOW TO REMAIN HAPPY THROUGH TIMES OF STRESS
The soul is not a recessive gene. With every movement of the body, its innate perfection finds expression. Discovering this for yourself will not only boost your self-esteem and improve your relationships, but will also lead you to demand more of yourself and push your limits to redefine what is possible.
3. THE ART OF GRATITUDE: WHY AREN'T WE HAPPY WITH WHAT WE HAVE?
We've all been there, seduced by the fantasy that fame, wealth, beauty, genius, or power will bring us happiness. We know that it doesn't work, yet we persist in trying anyway. Why aren't we happy with what we have? How can we master the art of experiencing the goodness of our lives?
4. HOW OUR SHORTCOMINGS CAN BECOME SOURCES OF JOY
We all make mistakes. And we all have flaws and deficiencies in our characters. Feeling bad about our failings might be laudable, but it can also drain us of the motivation to improve ourselves. In this lesson, we discover how life's greatest joys can be found in meeting our internal challenges and growing from our mistakes.
Sonja Lyubomirsky, PhD
Professor of Psychology at the University of California, Riverside; Author of The How of Happiness and The Myths of Happiness

Finally, we are ready to apply the findings of positive psychology to the wider world! How Happiness Thinks is a thoughtful, impressive effort to accomplish just that. I wish I could take this course myself!

Tal Ben-Shahar, PhD
Professor, Interdisciplinary Center; Lecturer, Psychology Department, Harvard University; Author of five books including Happier and The Question of Happiness

How Happiness Thinks brings together modern research in positive psychology and ancient Jewish wisdom. This marriage between theology and science can bring about significant positive change in individuals and communities.

Ellen Langer, PhD
Professor of Psychology, Harvard University; Author of eleven books including Mindfulness and The Power of Possibility

A proper education should include more courses like this one which takes up basic questions of morality that are important to live a successful mindful life.

 
 
When
February 10th, 2022 7:00 PM through March 3rd, 2022 12:00 AM
Location
3904 West Park Blvd.




Chabad of Plano




Plano

,

TX

75075




United States
Event Fee(s)
| | |
| --- | --- |
| Standard Fee (Texbook included) | $30.00 |
| +1 Registration (friend/couple) | $25.00 |
| Happiness Sponsor (Textbook included) | $180.00 |